How To Get The Most From An Information Security Risk Assessment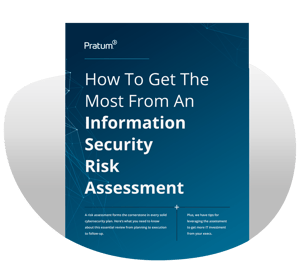 What's Inside?
A risk assessment forms the cornerstone in every solid cybersecurity plan -- and nearly every regulatory environment requires one. The assessment dives deeply into every aspect of your information security approach, including written policies, user provisioning, employee habits and more.
That means if you've never done an information security risk assessment, it's time to start.
If you haven't done one for a long time, it's time to get back in the habit.
If you've only done a DIY version conducted by your own team, it's probably time to bring in a fresh set of eyes.
This free 16-page guide provides everything you need to know about this essential review from planning to execution to follow-up. To help you conduct a risk assessment that position your organization for years of wise cybersecurity investments, we'll cover best practices for:
Choosing the Assessor
Properly Scoping the Assessment
Identifying the Appropriate Framework
Getting Buy-In from Employees and Executives
Acting on the Results
Fill out the form below to get the free guide!